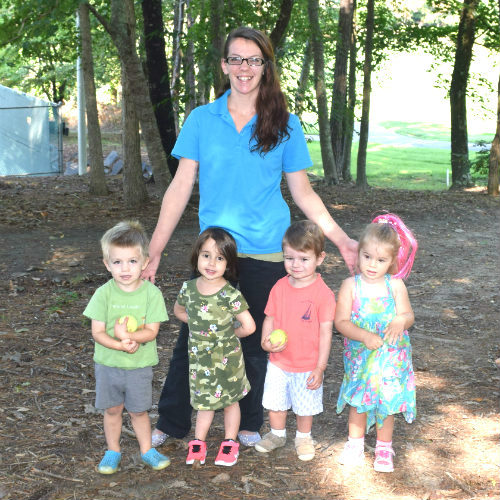 Country Club of Asheville is a parent's and child's new best friend
The Country Club of Asheville has recently unveiled a "Drop and Play" program, which is a revised take on Kids Club.
Drop and Play is designed for club members who need a place to bring their young children on weekdays while participating in on-site leisure activities, running errands, or if they just need a short break.
"My almost three-year-old daughter loves Ms. Amy and Ms. Laine; she looks forward to going and does not want to leave." says club member Hilary Fridman of the new program.
Laine Kovac is the Director of Activities & Wellness at Country Club of Asheville. Laine comes from an extensive background in childcare management. She has a broad knowledge of early childhood development and brings her experience of working in upscale preschools to cultivate and evolve the childcare programs at CCA.
Amy Boykin is the Youth Coordinator and spends one-on-one time with the children on a daily basis. Her love for the children is evident when you see her in action. She has a background in early childhood education and working with at-risk youth.
The goal of the program is to provide members a safe, nurturing, and educational environment for child care. The children participate not only in play, but educational activities. This drop-in early learning program will have a structured schedule and curriculum comparable to any other preschool program. The children will be engaged throughout their time here with activities such as art, reading, literacy, math, physical activity and music.
As Fridman shares, "[My daughter] comes home each time with crafts, many of which teach letters, shapes, and numbers. She also gets outdoor time, socialization, and plenty of imaginative play. I would not hesitate to recommend the program to anyone!"
Drop and Play provides care up to two hours per day for members who are participating in on-site activities such as fitness classes, dining, massage therapy and golf. It is also available to parents who would like to drop their children off and head to errands or activities off-site.
"I can't say enough good things about the CCA Drop and Play," summarizes Hilary Fridman.
This program is just one more way Country Club of Asheville portrays its commitment to members and the importance of family.