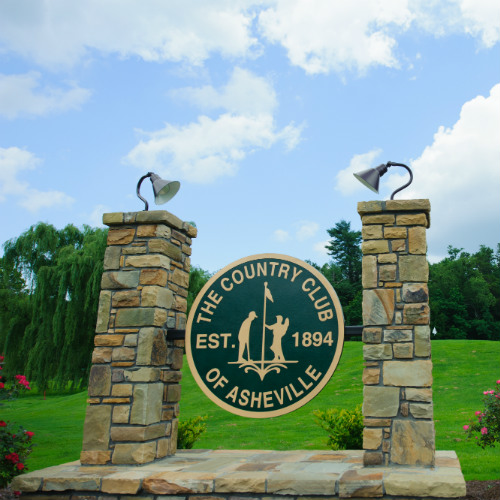 The long and enduring history of Country Club of Asheville has involved land purchases, gifts, leases, debt solutions, and "The Big Swap." Today, the club is North Carolina's oldest in continuous operation, and the second oldest in the South.
Golf's Early Days in Asheville
Neighboring farmers in West Asheville soon began to complain about the fox hunts causing damage to their property.
Noticing that the fox population was declining, the club decided to drop fox hunting in favor of golf ball hunting. A committee bored several holes in the terrain. The result? Golf became so popular that the same committee built a new five-hole course.
In 1896, the club changed its name to Swannanoa Golf and Country Club. The club moved its rudimentary golf course three times thereafter, each in search of a more convenient location to the city.
In late 1898, one of Asheville's prominent citizens, George Willis Pack, whose wife Frances liked to play golf, leased to the club for $1 a year the land it needed to construct a more sophisticated golf facility — including a new clubhouse with showers, locker rooms, lounges, and game rooms — on the site just off Charlotte Street, north of downtown, near the present-day Omni Grove Park Inn.
In 1905, Swannanoa Golf and Country Club was renamed Asheville Country Club. Five years later, Asheville's Grove
family helped hire Willie Park Jr., a golf pro and course designer from Musselburgh, Scotland, to take the existing nine holes, add nine more, and present a full 18-hole layout to the club. Park, along with his father, won a total of six Open Championships. They were rivals of Old Tom Morris and his son Tommy Jr., who together won a total of eight Opens.
In 1926, Donald Ross, the renowned Scotsman who moved to Pinehurst in 1900, completely redesigned the course, which then began playing host to the world's best players. Soon after the original 1926 Ross design grew in, the likes of Harry Vardon and Ted Ray competed in an exhibition. The PGA's Asheville Land of the Sky Open ran for 18 years (through 1951), with the legendary Ben Hogan winning three consecutive years from 1940 to 1942. Another legend, Bobby Jones, also came to Asheville and the Grove Park Inn to play the lower mountain golf course that he so enjoyed.
In addition, two years after Ross's course opened, the nearby Lake View Park development built its own Ross-designed
layout, Beaver Lake Golf Club, where Country Club of Asheville members enjoyed playing privileges.
"The Big Swap"
In the 1930s, the club survived the Great Depression, but that did not ensure staying in the black. Fast-forward a
generation, when another golf-loving newcomer to Asheville stepped in to provide Country Club of Asheville its next big boost. Mitchell Wolfson — a multimedia magnate and horse breeder from Miami — arranged to have the country club sell its course to the Grove Park Inn. He used the profits to buy the Lake View course and build a new clubhouse, tennis courts, and pool.
This led to a 1976 event known as "The Big Swap," when Grove Park Inn acquired the original golf course, while Country Club of Asheville moved to its current course at Beaver Lake. During this time, the club also changed its name from Asheville Country Club to Country Club of Asheville.
Raleigh's McConnell Golf purchased the club in late 2014. Two years later, McConnell Golf spent $3.7 million on capital projects, including a major course renovation.
Asheville's Next Chapter
Ed Woeckener, 83, has been a member at Country Club of Asheville for nearly two decades. He has played more than
350 courses in 26 states — 100 in Florida alone — along with 13 other countries, including rounds with 37 golf-tour professionals. He is a member of the Donald Ross Society, the Golf Collectors Society, and the Society of Hickory Golfers, a distinguished consortium of avid golfers who play only with hickory shafted clubs.
"This club has an amazing history, and we've seen many changes in the past 18 years," says Woeckener. "We are very
strong supporters of John McConnell. His entry here has been most appreciated and he's done everything he's said he would do."
For much of 2016, Country Club of Asheville's course was closed due to extensive restoration performed by Pinehurst-based golf course architect Richard Mandell, who oversaw numerous improvements such as new 007 Bentgrass on all 18 greens, a restored creek crossing on No. 10, a new practice facility, and rerouted cart paths.
Today, after a long, storied — and occasionally confusing — history, Country Club of Asheville stands proudly as North Carolina's oldest continuously running country club and the second oldest in the south. With a legacy like this, the future looks just as rich.