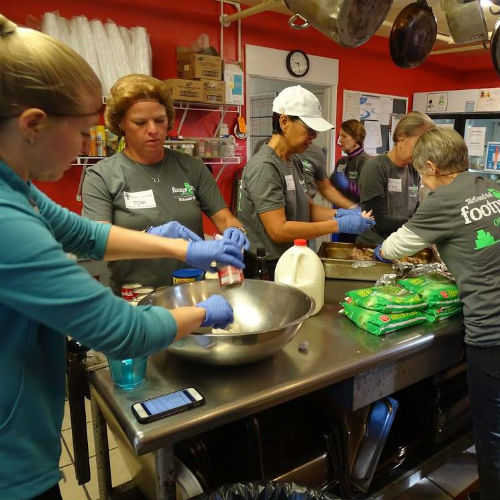 Country Club of Asheville provided warm meals this winter.
There's Strength in Numbers for McConnell Golf's Footprints on the Green program. For a successful outreach, both members and staff come together to support local communities, and that's exactly what happened last fall in Asheville, when members and staff joined forces for their first Footprints effort.
CCA sent nine volunteers to participate in a meal-prep initiative at ABCCM Steadfast House, a shelter for women and children that provides stability, education, and job training.
Debbie Ponder, the club's membership and marketing director, was part of the group that spent the day in the kitchen at Steadfast House assembling more than a dozen freezer-ready chicken and rice casseroles. Residents at Steadfast House enjoyed the meals throughout the winter.
"After we finished prepping the casseroles, we had a Q&A with Steadfast House staff," says Ponder. "We're hoping to establish a meaningful relationship between the club and Steadfast. We're located so close to each other, and we hope to be able to do more."
Member Gail Miller helped with the effort after reading about it in CCA's newsletter.
"We were spreading freezer pans all over the place and filling them up," she says. "Big casserole dishes for the residents to pull out of the freezer all winter long."
For Miller, along with the rest of CCA's volunteers, the day was about more than just prepping meals.
"It was good exposure. I didn't even know Steadfast House existed. As a group, we learned more about the community and what's being offered to help."
"After that day, we all agreed — we need to do this more," says Ponder.