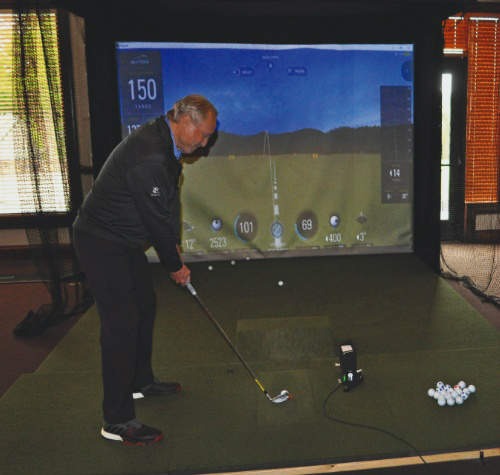 SkyTrak simulator allows indoor practice at The Country Club of Asheville
As we all experienced,rain fall in 2018 was significant. In fact, mos reported totals from the National Weather Service were at least a foot above average, with many cities in North Carolina setting records. On the bright side, rain and snow couldn't stop members at Country Club of Asheville from working on their game this winter thanks to SkyTrak.
With the help of the Men's Golf Association, Director of Golf Matt Stewart and his team installed the indoor golf simulator in the Cardinal Room this past December. This system allows members to improve their game year-round, practice anytime regardless of weather, and provides opportunities for games and entertainment.
Within its first three months at the club, the CCA professional staff did over 100 lessons and 25 club fittings, in addition to members playing over 50 rounds of golf on the many courses SkyTrak has to offer.
The system is extremely valuable in providing information that gives golfers of all levels a better understanding of what equipment to play with and why, by tracking how far they hit each club in their bag - not to mention the ability to play some golf during the slow winter months and keep their game in shape.
SkyTrak has been an asset to Stewart and his team as a teaching tool, helping to educate members about equipment options and keeping them engaged during the off-season.
"One huge benefit we have experienced by having SkyTrak has been the interaction with our members on those cold winter days or rainy days where most might stay home due to the weather. Instead, they are coming to the club to play, practice, or get lessons and club fittings on SkyTrak."
A frequent user of SkyTrak is CCA member Randy McKinney, and he agrees with Matt. "What a great addition to the Country Club of Asheville! It's a great way to practice year-round and in all types of weather. It gives me instant, accurate feedback on every swing."
In addition to improving members' games, the golf operations team has scheduled social events utilizing SkyTrak. During the NCAA Sweet 16 Basketball Tournament in March the staff hosted Hoops, Wings and Swings. Forty members attended to enjoy wings, a nacho bar and draft beer specials in addition to having a closest to the pin contest while watching the tournament and their brackets.
The excitement surrounding SkyTrak shows no sign of slowing. Moving forward, it will continue to be incorporated as an element of interactive fun at club events and as a way to "tag along" for the last three majors this season.