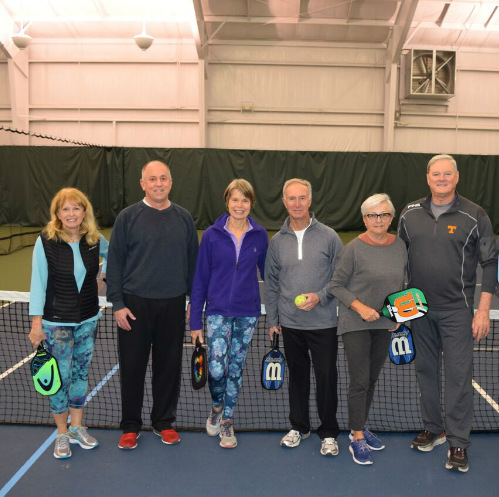 It's the fastest growing sport in the country, and McConnell Golf members have home-court advantage.
Pickleball is a paddle sport, similiar to tennis or badminton, but with fewer rules and, some would say, even more fun.
"This year is our test year for pickleball," says Kyle Thortsen, McConnell corporate director of tennis. "We're educating our tennis pros on how to play and running demos at clubs, so be on the lookout for more details from your pro shop on upcoming pickleball socials this year."
Holston Hills Country Club and Country Club of Asheville have seen a big interest in the sport; both clubs have a regular group of players who meet weekly.
"The biggest fans of pickleball are usually those who are aging out of tennis," says Thorsten. "It's a slower-paced game with an underhand serve, played on a smaller court. It's great for tennis players who may have had injuries or can't take the wear and tear of covering a full tennis court."
At CCA, Director of Tennis Bill Barber says pickleball is bringing new people to his indoor courts.
"I'm seeing new people out here, which I love. It gets people active, and that's a great thing. I've been shocked at the interest. There's a very quick learning curve and it's an incredibly social game. People are watching and laughing at the good, the bad, the ugly shots. It's almost like adult ping-pong. I love when I hear members say 'I haven't laughed this much in years.'"
CCA member Wayne DiCastri recently moved to Asheville from Minnesota, where he and his wife, Ingrid, played the sport regularly. They didn't miss a beat when they joined CCA last fall.
"We have a great core group that plays regularly," he says.
"It was a great way for us to meet new people and get some exercise. There's less area to cover on the court and all the equipment is here. You just show up and start playing."