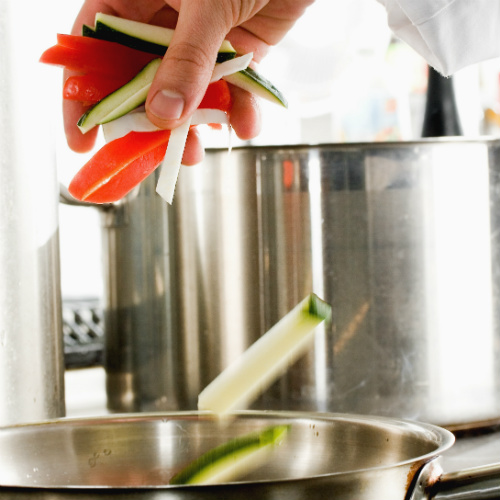 Wellness is the self-proclaimed specialty of Executive Chef Bruce McIntosh at the Country Club of Asheville, so, naturally, he was our go-to when we wanted some suggestions for making classic summer recipes healthier. A native of California — where healthy cuisine is de rigueur — McIntosh moved to Asheville in 1981 and earned his executive chef certification at Asheville-Buncombe County Technical College. After years of working in different places around the country, he moved back to Asheville five years ago to work with McConnell Golf.
At the Country Club of Asheville, Chef and his team bring a cornucopia of healthy ideas to the table. Though McIntosh's cooking style leans toward French cuisine, he swaps the heavy butter sauces for vegetable or fruit purées, and replaces butter and flour with cornstarch and arrowroot to thicken sauces. "For example, we recently ran a grilled salmon with a pineapple and mango salsa," he notes. "We also do a pork chop with chimichurri sauce and avocado."
In addition to accommodating vegetarian and vegan diners, the kitchen team also offers salt-free and gluten-free items. "We do a lot of brown and basmati rice, and a lot of steamed vegetables," says Bruce. "And we serve all our entrées with three different vegetables, which we make fresh each day."
"For collard greens, we use chicken stock that we make [from scratch] and we smoke turkey legs and use them instead of ham hocks." Throw in some onion and vinegar, and you have a pot of tasty collards, without all the fat of the traditional Southern version.
Portion control is another big focus. For a recent children's event, the chef whipped up 2oz burgers on little whole wheat buns. "If kids grow up with healthy food, they might turn that way when they get older," he says.
To cut some calories from your summer fare, Bruce suggests substituting your favorite vinaigrette for mayonnaise when making potato salad. Or consider cauliflower as a stand-in for the potatoes (see recipe below). The same goes for coleslaw, which is just as good — maybe even better — with an Asian-inspired dressing of sesame oil and rice vinegar (see recipe below). Bon appétit!
Cauliflower Salad
Chef Bruce Suggests this easy substitute for summer potato salad. Serves 4.
1 head raw cauliflower
1/4 cup chopped baby spinach
1/4 cup chopped cooked bacon
1 Tbsp. grated parmesan cheese
2 Tbsp. finely chopped onion
1/2 cup mayonnaise
1/2 tsp. salt
1/2 tsp. pepper
Cut cauliflower into small florets, and mix it with other ingredients in a bowl. Chill several hours before serving.
Chinese Slaw
Here's the chef's healthy hack on traditional coleslaw - minus the mayo. Serves 4.
2 lbs. Napa or Savoy cabbage, shredded
2 Tbsp. salt
1 Tbsp. chopped garlic
1 red bell pepper, seeded and diced
1 jalapeño pepper, seeded and diced
1 cup shredded daikon radish
1/2 cup shredded carrots
1/4 cup sliced green onions
1/3 cup rice vinegar
1/2 cup sugar
1 Tbsp. sesame oil
Mix all ingredients together in a bowl. Let mixture sit in the bowl for about 30 minutes, then drain off any water.
In a separate small bowl, mix together rice vinegar, sugar and sesame oil. Whisk until sugar dissolves. Pour dressing over slaw mix and serve. Slaw will keep up to four days.