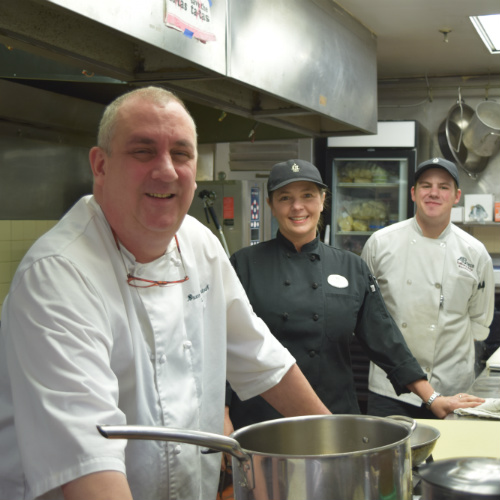 There's never been a better time to have dinner at the club. Here's, one of McConnell Golf's Executive Chefs dish on everything from locally sourced ingredients to the best entrée and wine pairings.
Bruce McIntosh, Certified Executive Chef
"The halibut we're serving tonight will fly out the door," exclaims Bruch McIntosh, who helms the kitchen in Asheville.
"It's gorgeous. Smoked tomato cream sauce, grilled corn succotash, lemon aioli. You've got three different notes on the plate there, and we try to hit that every time."
Hitting the right notes, indeed. McIntosh and his team earn praise for quality and consistency, two of the most important factors for any restaurant, but especially so in foodie-centric Asheville.
"We try to get North Carolina fish whenever possible," says McIntosh. "We look at what season is coming up, and that dictates the menu. We have some of the best fish in town. We've been buying from the same fish purveyor for more than 30 years, so they know what I want."
The citrus notes in Juslyn's new sauvignon blanc pair well with McIntosh's seafood plates, especially, he notes, in the calamari and pan-seared fish entrées.
Sourcing locally extends to other ingredients, too. Local mushrooms and produce come from Franklin, NC. The creamy
grits in McIntosh's shrimp and grits dish hail from a nearby purveyor in South Carolina.