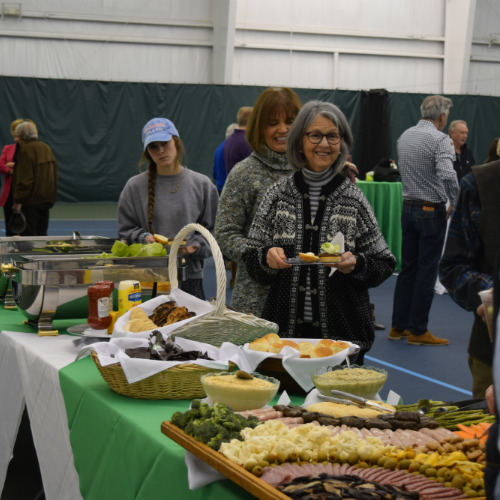 Game, set, dinner!
Exhibition matches have long been a celebrated occasion across the tennis facilities of McConnell Golf; however starting last year, a new twist was added — members can enjoy great food, service, and entertainment right on the court.
"What can be better than dining under the stars while watching local collegiate and professional tennis players compete?" asks Kyle Thortsen, director of tennis operations. "These Dining on the Courts events are a night for the entire family to enjoy."
This February, CCA hosted its second annual Grand Slam Social on their indoor tennis courts. The event featured a menu of seared tuna, beef sliders, and a batch of the official cocktail of the U.S. Open, the Honey Deuce.
For the entertainment, Ben Kelley (former CCA junior and recent graduate of Presbyterian College) and CCA Director of Tennis Bill Barber took on Henry Patten (UNC-Asheville's No. 1 player) and Alix Theodossiou (a former CCA junior and recent graduate of UNC-Wilmington). Last year, Kelley, who is the top player in school history, helped his team win the Big South tournament and gain entry into the NCAA tournament for the first time. Meanwhile at UNCW, Theodossiou played the No. 3 spot her senior year and her team finished second in the Colonial Conference. Patten is currently ranked No. 32 in the NCAA men's singles, the highest ranking ever for a UNCA player.
Both Patten and Theodossiou played incredibly well and despite Barber and Kelley putting up a strong fight, the young duo won 8-5. Following the doubles play, Patten and Kelley played an entertaining set of singles to finish off the evening's entertainment.